Mesa Gonna Be A Jedi (sort of...)
After mesa getten kicked out of der temple, mesa starten to tink. Der Force issen bombad. Mesa could fix a lot of problems in mesa life with der Force. So, mesa starten a correspondence course in der Force. Mesa getten an e-mail every week, and learnen how to use der Force! Mesa hassen already built mesa first lightsabre - looky looky!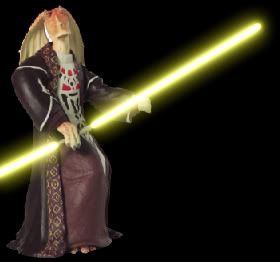 Thissen wassen just before itsa blew up. But mesa try again soon. Mesa can also lift up a tiny piece of paper 1 cm off der table with mesa mind. Itsa not much... but mesa tryen.