Hmm... green... or orange... or blue?
Mesa hassen been to Jawajuice's new place to looky at speeders. Hesa issen haven a lot of different kinds of speeders. Itsa issen difficult to choose... mesa asken if any of dem can goin in a swamp. Hesa sayen none, since no one issen wanting to buy swampy speeders back on Tatooine. Eventually, mesa asken for one with a good autopilot since mesa rememberen how der last one crashed - dat wassen a crappy Naboo speeder with no autopilot. Mesa issen also wanten someting dat issen pretty fast - but not as fast as Ani's since dat one issen so fast only a podracer can drive itsa properly. Dissen narrows it down to der speeders here: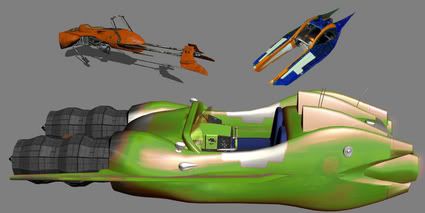 Which do yousa tink?